Tamilnadu famous Vinayagar temples and Sankatahara Chaturthi pooja

Do you want to know about the popular vinayagar koils in Tamilnadu? Do you want to know why Sankatahara Chaturthi pooja is performed? This article gives the list of famous vinayagar temples, its location, temple timings and also the Sankatahara Chaturthi pooja celebrations and its significane in Tamilnadu. The Sankatahara Chaturthi dates for the year 2013 has also be given.Read this article and perform the chaturthi pooja and let all your obstacles be cleared with the blessings of Lord Ganesha.


Pillaiyarpatti Shri Karpaga Vinayagar Koil, Thirupattur, Sivagangai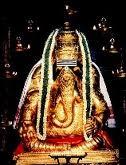 The Karpaga Vinayagar Koil or the pillayar patti temple is located at Thirpattur in Tamilnadu. It is in the district of Sivagangai. It is a cave temple where vinyagar is carved at a 6 feet height inside the cave The vinayagar chaturthi is celebrated for a period of 10 days here. The temple has also Lord Shiva named as Arjunapureeswarar.In this temple, vinyagar's trunk is curved at the right side and so this is valampuri vinayagar and he is seated facing the northern side. The temple has goddess karthiyayini, nagalingam and pasupatheeswar.
• Karthiyayini is known to arrange marriages for nmarried persons
• Nagalingam is known to gift offsprings
• Pasupatheeswar is the lord of wealth.

Pillaiyarpatti temple timings
• Mornings 6.00 am to 1.00 pm
• Evenings 4.00 pm to 8.30 pm

Nearby places in Thirupattur
• Yoga bhairavar koil
• Thiruppathur Pillaiyar patti koil about 12 km from thirupattur bus stand
• Thirkozhitiyur a perumal koil about 6 km from thirupattur
• Vairavanpatti about 11 km from thirupattur
• Pattamangalam about 8 km from thirupattur
• Piranmalai about 22 km from thirupattur
• Kundrakudi murugan koil about 15 km from thirupattur


Malaikottai Ucchi Pilaiyar koil, Rockfort, Tiruchi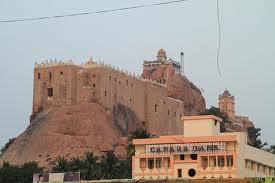 Ucchi Pilaiyar koil is located at Rockfort in Tiruchi. It is also called as the Malikottai temple. It is a cave temple about 275 feet tall. From the top of the hill, we can view the Tiruchi city. The temple has totally 417 steps to reach Malaikottai pilaiyar. The temple has 1000 pillared mandapams where marriages take place. Thayumanavar temple is located at the foot of the hill. It is Shiva temple.

Ucchi Pilaiyar koil timings
• The temple opens at 6.00 am and closes at 8.00 pm

Nearby places
• Srirangam
• Ranganatha swamy at srirangam
• Tirchi
• Thirvanaikaval


Mukkuruni Pillaiyar,Madurai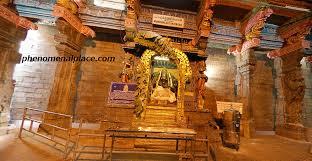 The mukkurni vinayagar koil is situated in Madurai. The pilaiyar is named mukkuruni because a huge modagam is offered to him on vinayagar chaturthi day. The modagam is made of three kurunis of rice. One kurni is four padis and so about 12 padis of rice is used to make the modagam.


Rajaganapathy temple, Salem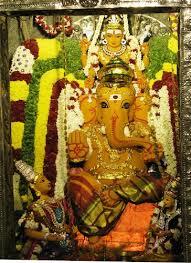 The Rajaganapathy temple is situated in Salem and it is a 400-year-old temple. Lord Ganesh here is seen with raja alangaram everyday and so he is called as the rajaganapathy. The Sugavaneswarar temple is very close to this temple. Rajaganapathy here is known to protect us from all evils. Married couples come here to pray for child and children pray for knowledge.

Rajaganapathy Temple timings
Morning: 6.00 am to 11.00 am
Evening 4.00 pm to 8.00 pm


Popular Vinayagar koils in Tamilnadu

• Pancha Mukha Vinayakar koil at Nagapattinam
• Manakkula Vinayagar koil at Pondicherry
• Svayambhu Vinayagar koil at Sempakkam
• Vallabha Vinayagar koil at Thanjavur
• Varasiddhi Vinayagar koil at Vallam
• Mattru Uraita Pillaiyarkoilat Viruttasalam.


Sankatahara Chaturthi pooja in Tamilnadu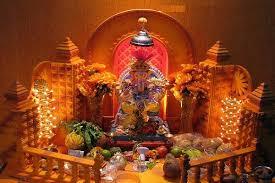 Sankatahara Chaturthi is a very auspicious day in the tamil calendar. Fasting on this day will relieve one from all troubles and worries as Lord Ganesha will grant his blessings and clear all worries or sankatams. The fast is to be observed on all sankatahara chaturthi throughout the year. Lord Ganesha will clear all obstacles if we observe this fast. Wake up early in the morning, take a bath, and light a lamp with ghee and offer flowers, banana and coconut milk if you are praying for your loved ones. Chant ganesha's name thrice or in multiples of three as number three is dear to pilaiyar. You can also chant ganapathi stothras.


Sankatahara Chaturthi dates in 2013

• January 1 Tuesday
• January 30 Wednesday
• March 1 Friday
• March 30 Saturday
• April 28 Sunday
• May 28 Tuesday
• June 26 Wednesday
• July 25 Thursday
• August 24 Saturday
• September 22 Sunday
• October 22 Tuesday
• November 21 Thursday
• December 21 Saturday