Vijay Awards 2013 Winners List, 7th Annual Vijay Awards Celebrities & Winners

Do you want to know who is the best actor, best actress, best film, best director, best lyricist, etc. of the year 2012? Then read this article which gives you details about the 7th annual Vijay Awards 2013.


Vijay TV's 7th Annual Vijay Awards 2013

Vijay TV's 7th Annual Vijay Awards was the most awaited by the tamil cinema lovers around the world. They were much eager to know if their favorite hero or heroine has won the award. This year Vijay Awards was held at Nehru Indoor Stadium on 11th May 2013. Close up Vijay Awards was powered this year by Malles Constructions and the total film industry function was there in the function. An array of stars, popular directors and producers, technicians, etc. attended the function. There was a live performance of the stars on stage and Vijay Awards 2013 was hosted by Actor Madhavan and Neeya Nanaa Gopinath. The function was made memorable because of the presence of the Bollywood Badshah Shahrukh Khan. Read the article to know about the 7th Annual Vijay Awards 2013 winners.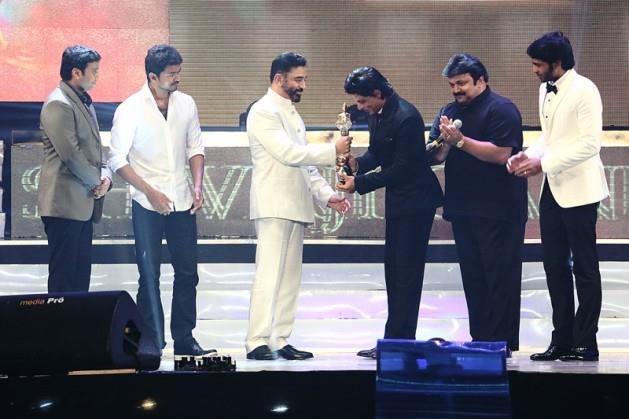 Vijay TV's 7th Annual Vijay Awards 2013 winners Details

Best Film – Vazhaku en 18/9

Best Director - Balaji Shaktivel (Vazhakku En 18/9)

Best Dialogue Writer - Rajesh (Oru Kal Oru Kannadi)

Best Screenplay – Karthik Subbaraj (Pizza)

Best Actor – Dhanush (Moonu)

Best Actress - Samantha Ruth Prabhu (Neethane En Ponvasantham)

Best Supporting Actor Male – Sathyaraj (Nanban)

Best Supporting Actor Female – Anupama (Muppozhuthum Un Karpanaigal)

Best Comedian – Santhanam (Oru Kal Oru Kannadi)

Best Villan – Sudeep (Nan Ee)

Best Debut Actor – Vikram Prabhu (Kumki)

Best Debut Actress – Varalakshmi Sarath Kumar (Poda Podi)

Best Debut Director - Balaji Tharaneetharan (Naaduvula Konjam Pakkatha Kanom)

Best Find of the Year – Anirudh Ravichandar (Moonu)

Best Music Director - D.Imman (Kumki)

Best Cinematographer – Gopi Amarnath (Pizza)

Best Costume Designer – Rajendran (Aaravan)

Best Art Director - R.K.Vijay Murugan (Aaravan)

Best Stunt Master – Anal Arasu (Thadaiyarai Thakka)

Best Choreographer – Robert (Poda Podi)

Best Lyricist – Thamarai (Muppozhuthum Un Karpanaigal)

Best Female Playback - Ramya (Neethane En Ponvasantham)

Favourite Face – Udhaynidhi Stalin (Oru Kal Oru Kannadi)

Favourite Actor – Vijay (Thuppaki)

Best Entertainer – Vijay (Thuppaki)

Best Crew – Pizza

Special Jury Award – Trisha

Special Jury Award – Vijay Sethupathi

Special Jury Award - Aarohanam

Chevalier Sivaji Award – Shah Rukh Khan

Best Costume Designer of the Year 2012 - Aravaan

Best Art Director of the Year 2012 - Aravaan

Best Cinematographer of the Year 2012 - Gopiamarnath (Pizza)

Best Stunt Director of the Year 2012 - Anal Arasu (Thadaiyara Thakka)

Special Jury Award of the Year 2012 - Arakonam Film

Best Lyric Writer of the Year 2012 - Thamarai

Best Female Playback Singer of the Year 2012- Ramya ( Satru Munbu from Neethane En Ponvasantham)

Best Choreographer of the Year 2012- Robert (Love Panalama from Podaa Podi)

Best Debut Director of the Year 2012 - Balaji (Naduvula Konjam Pakatha Kaanom)

Best Supporting Actor of the Year 2012 - Sathyaraj (Nanban)

Best Supporting Actress of the Year 2012 - Anupama Kumar ( Muppozthum Un Karpanaigal Movie)

Best Comedian of the Year 2012 - Santhanam (Oru Kal Oru Kannadi)

Best Short Film of the Year 2012 - Warrant

Best Music Director - Imman (Kumki)Best Villain of the Year 2012 - Sudeep (Naan Ee)

Best Screenplay Writer of the Year 2012 - Karthick Subburaj (Pizza)

Best Dialogue Writer of the Year 2012 - Rajesh (oru kal oru kannadi)

Best Director of the Year 2012 - Balaji Sakthivel (Vazhukku En 18/9)

Best Film of the Year 2012 - Vazhukku En 18/9

Best Actor Male of the Year 2012 - Dhanush (3)

Best Actor Female of the Year 2012 - Samantha Ruth prabhu (Neethaane En Ponvasantham)

Best Debut Actor Female - Varalakshmi (Podaa Podi)

Best Debut Actor Male - Vikram Prabhu (Kumki)

Find of the Year - Anirudh Ravichander (3)

Face of the Year - Udhayanidhi Stalin ( Ok Ok)

Best Crew of the Year 2012- Pizza

Sivaji Ganesan Award 2012 - Shahrukh Khan

Best Entertainer of the Year 2012 - Ilayathalapathy Vijay (Nanban & Thuppakki)

Favorite Hero of the Year 2012 - Ilayathalapathy Vijay

Favorite Song of the Year 2012 - Google Google from Thuppakki

Favorite Film of the Year 2012 - Thuppakki

Favorite Director of the Year 2012- AR.Murugadoss (Thuppaki)