Micromax Canvas 4 A210 VS Nokia Lumia 720 Detailed Comparison and features

Micromax has launched its best smartphone till date and that too at a cheap price. It is the Canvas 4. This article deals with all the features of Canvas 4 along with its pros and cons. Know the best features of Canvas 4. Also I have compared Canvas 4 with Nokia Lumia 720. Both have similar price and so I have compared all features and listed the pros and cons of Lumia 720 and Canvas 4. The cheap websites to buy Lumia and Canvas are listed from where you can buy the phones at a cheaper rate than market.


Operating system comparison

Micromax Canvas 4 and Lumia 720 have different operating systems.
Operating system of Canvas 4 is Android 4.2.1. This is the latest Android version. And there are rumours that it can be also be upgraded to the next Android version too. The advantage of Android OS is that there are large number of apps available. If you are a person who wants thousands of apps for your smartphone, then this may be a good choice. However the cons of Android is that the user interface offered by Canvas 4 is not that beautiful.

However, the OS of Lumia 720 is Windows 8. So it is a Windows phone. Windows 8 is a new OS and it has created its own space. Negative point about Windows 8 is that it does not offer that many apps that Android offers. But wait! These days the apps developers are getting interested in making apps for Windows 8. Another important point is that all the important apps like WhatsApp, Kindle, Angry Birds are available in Windows 8. My opinion is that if you are a person who does not need so many apps, you can go for a Windows OS. The best point about Windows OS is that you get Microsoft Office with it. And you can always sync your documents. That's not all. You get free storage in Skydrive.

My verdict: Both pros and cons of Android and Windows 8 are mentioned. It depends on the user which one to choose.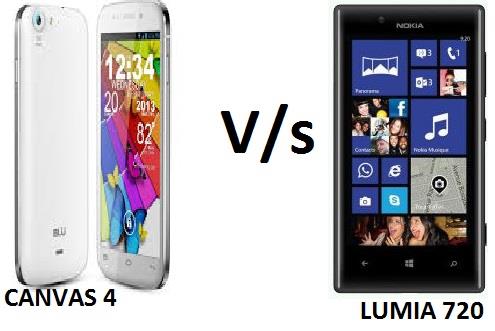 Network and SIM

Lumia 720 has single SIM slot. But Micromax Canvas 4 has dual SIM slot. So you can use two networks in Canvas 4. There is no need to carry another phone. Both the networks will remain active all the time. A smartphone with two SIM cards is a factor that gives more points to Canvas 4.
My verdict: Canvas 4 wins because it has dual SIM. For people who travel a lot, need more than one network. For them, a dual SIM phone is a necessity. Wait! It's a dual SIM smartphone.


Dimension and weight factors

Lumia 720 weighs 128 grams. And Micromax Canvas 4 weighs 158 grams. There is a 30 grams difference. In this world of technology, lighter gadgets are preferred. It is easy to carry a lighter smartphone.
Lumia 720 size is 127.9 x 67.5 x 9 mm. size of Canvas 4 is 144.5 x 73.8 x 8.9 mm
Verdict: Lumia 720 wins because of its lighter weight. Canvas 4 weighs more because of its dimensions.


Processor and speed of Lumia 720 and Canvas 4

Processor is the heart of a smartphone. Without a heart(processor), a phone is nothing. Canvas 4 has Quad Core processor. On the other hand Lumia 720 has Dual Core processor. As Canvas 4 has Quad Core, you can do more and more tasks simultaneously and there will be no noticeable drop in performance. the strengths of a processor are tested when HD movies or rich games are played. In case of Quad Core, heavy graphics dependent tasks work seamlessly. This may lag a bit in a Dual Core processor.
Verdict: Canvas 4 wins in the processor domain. If you like to play games that are heavy graphics dependedent, then you need a better processor. A Quad Core processor will answer this.


Battery life

If we compare the battery life of Lumia 720 with that of Canvas 4, then Lumia 720 wins. This is quite certain because Canvas has HD display and Quad Core processor. Lumia 720 conserves power by the help of low specifications of RAM, processor and display. This is evident from that fact that both Lumia 720 and Canvas 4 have 2000 mAh battery.
Verdict: Lumia 720 better. If you are a person who travels more and more, then you need a phone which has a battery of longer stamina. So Lumia 720 should be your choice. But you has to compromise with performance. you can also increase the battery stamina by using 2G instead of 3G and switching OFF the WiFi.


NFC support

Lumia 720 has NFC wheras Canvas 4 doesnot. NFC is the future of near communication. You can connect two NFC smartphones by just touching them with each other. In the near future, you will find that payments at malls will be done through NFC.
Verdict: Lumia 720 has it and so it wins.


RAM comparison

Between Lumia 720 and Canvas 4, Canvas 4 has a better RAM. RAM of Canvas 4 is 1 GB wheras RAM of Lumia 720 is just 520 MB. This is the biggest con of Lumia 720. These days smartphones have a minimum RAM of 1GB.
Verdict: Canvas 4 wins. No hanging, delay in running big apps or games.


Display size and quality

Canvas 4 has a bigger screen of 5 inches. Lumia 720 screen size is 4.3 inches. No doubt a 5 inch screen is better for view. Watching movies in a 5 inch screen is way better than a 4.3 inch screen.
Not only the size, but the screen resolution is better in Canvas 4. The screen resolution of Canvas 4 is 1280 x 720. Screen resolution of Lumia 720 is 480 x 800. This means that Canvas 4 has better display. The display of Canvas 4 is sharper and crispier.
Verdict: In terms of diplay sie and quality, Canvas 4 is the clear winner. However, you should also think about the fact that a 5 inch device is not so easy to hold compared to a 4.3 inch. So first grab a 5 inch phone. Try to use it. If you are comfortable, then only you should consider buying it. 4.3 inch phones are easy to use with a single hand only.


Camera specifications and comparison

Primary camera: Canvas 4 has 13 MP, whereas Lumia 720 has 6.1 MP.
Secondary camera: Canvas 4 has 5 MP. But Lumia 720 has 1.3 MP
Lumia 720 has Carl Zeiss optics, autofocus, flash type- LED, geo tagging and video recording at 720p at 30fps.
Canvas 4 has similar featues. But it doesnot have Carl Zeiss optics. It has touch focus, smile detection and panorama view. The video recording quality is better that is 1080p at 30 fps. A secondary camera of 5 MP is also another factor. If you are a person who does lots of video calling, then you should consider this phone.
Verdict: Canvas 4 seems to offer a lot more than Lumia 720.


Storage capacity

Remember that inbuilt memory is faster than using an external memory. Canvas 4 has 16 GB internal memory, whereas Lumia 720 has 8 GB. Although Lumia 720 has expandable memory, but as I said before that internal memory is always faster.
Verdict: Canvas 4 is the winner.


Some more comparison in short
Sound: Lumia 720 is better as it has Dolby headphone sound enhancement. Both these phones have 3.5 mm jack.


USB: Lumia 720 has microUSB v2.0 wheras Canvas 4 has microUSB v3.0. Canvas 4 is better.


Touch type: Both the phones have capacitive screens.


Connectivity: In 3G, Canvas 4 has 42 Mbps download. On the other hand, Lumia 720 has just 21.1 Mbps. Thus the download speed of Canvas 4 is double to that of Lumia 720. In this domain, Canvas 4 is the winner.


Bluetooth: Canvas 4 has the latest Bluetooth version i.e 4.0 whereas Lumia 720 has 3.0 version. So Canvas 4 is better.


Music player: Both the phones support almost all the formats of music. For music lovers, both the phones will do justice. However, the sound quality of Lumia 720 is better somehow.


Video player: Lumia 720 is better because it supports almost all video formats. Canvas 4 doesnot support all. So in case of Canvas 4, you may have to use a converter to play a video that is not supported by Canvas.


Pros and Cons of Micromax Canvas 4
Pros of Canvas 4 are

1. High megapixels: 13 MP primary camera is an excellent feature. A secondary camera of 5 MP is also another important feature of Canvas 4.

2. Latest Android OS: Canvas 4 runs on the latest Android OS which can be upgraded to next version too.

3. Good battery: Battery has good stamina. It is a 2000 mAh battery and offers a lot for atleast 2 days.

4. Touch screen is good, no delay in response.

5. Quad core processor is the best aspect of this phone at such a low price.


Cons of canvas 4 are

1. Quality of body of the phone is not that good. Lots of plastic used whose durability is doubtful.


Pros and Cons of Nokia Lumia 720
Pros of Lumia 720 are

1. Good price

2. Beautiful design: the design of the phone is really cool. It looks distinct and different from other phones.

3. Colorful cases: Lumia is all about colors. You can change the case color as per your wish.

4. Good battery: A 2000 mAh battery is enough to run the phone for 2-3 days.


Cons of Lumia 720

1. Internal memory is less. It is just 8 GB.

2. Apps are still less in number in Windows store.

3. Screen resolution is just satisfactory.

I have sumarised the comparison below for better analysis.


Summary of the comparison

1. Operating System: Canvas 4 has the latest Android, Lumia 720 has the latest Windows.
2. Canvas 4 is dual SIM phone. Lumia 720 is single SIM.
3. Lumia 720 is lighter and smaller than canvas 4. Lumia 720 can be easily used in one hand.
4. Canvas 4 has better processor, RAM and internal memory than Lumia 720.
5. Lumia 720 has more battery stamina than Canvas 4. This is mainly because it has single SIM.
6. Lumia 720 has NFC support, Canvas 4 does not.
7. Lumia 720 has good photo editing apps that are inbuilt. However, Canvas 4 has more mega pixels in its camera.
8. Lumia 720 has less internal memory compared to Canvas 4.
9. Canvas 4 has latest USB, Bluetooth and faster download.


How to buy Canvas 4 and Lumia 720 at cheap price?

Various online websites are selling Canvas 4 and Lumia at cheaper price. Currently the price of both the phones are in the 16000-17000 range. Good websites from where you can buy these phones at discounts are Flipkart, snapdeal and Indiatimes.