Pohela Boishakh Bengali New Year 1418 (2011-2012)

Poila Baisakh of West Bengal is the gala time for Bengalis which falls on first day of Baishakh month of Bengali Calendar. Get here to know more about how Bengalis celebrate Nabo Barsho 1418 which means Bengali New Year 2011-2012.


Pohela Boishakh Bengali New Year 1418 (2011-2012)

Pohela Boishakh marks the celebration of Bengali New Year on the first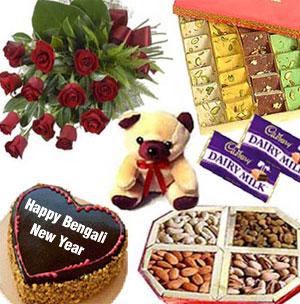 day of Baishakh month (April) according to Bengali Calendar. The Bengali Calendar follows the Hindu Vedic Solar Calendar and this year Poila Baisakh 2011 date falls on April 15th.

Nabo Barsha Festival is widely celebrated by the Bengali communities of West Bengal, Bangladesh, Assam and Tripura and in some foreign countries. The Mughal Emperor Akbar is the one who introduced this festival.


Nabo Barsho Traditions and Customs of West Bengal

On the day of Bengali New Year Bengalis used to put 'alpanas'(rangoli) on the entrance door which attracts everyone. They will place a kalash (earthen pot) on the centre of 'alpana design' and they worship Goddess Lakshmi and Ganesha for the well being and prosperity of the family.


Nabo Barsho Celebrations in West Bengal

Probhat Pheri(morning procession) is the important event to welcome the new year on which the young ladies wear white saris with red borders and men in dhuti and Kurta take part in the procession where they welcome the new year with much enthusiasm. Bengali people used to go to temples and offer puja. On this occasion Bengali businessmen will start new businesses and new ventures and will purchase new accounts book and start to prepare new accounts from that day called as Halkhata.


Nabo Barsho Greetings 2011

On this day people exchange Nabo Barsho greetings to one another. They will send Nabo Barsho Sms to their near and dear ones and greet them on the occasion of Bengali New Year. They do make visits to their relatives and friends place and greet them by wishing them "Subho Nabo Barsho" which means Happy New Year.