Indian Presidential election 2012- UPA candidate Pranab Mukherjee: A wiki biography

Are you searching for the details of Pranab Mukherjee, UPA candidate for Indian Presidential election 2012? If yes, you have entered the correct page. Here you will get information of Pranab Mukherjee regarding his political party, residential address, Email ID, Telephone, political career, Pratibha Patil, election date and many more!


Presidential election 2012 will be held on 19 July 2012 New Delhi to select the 13th President of India. Smt Pratibha Patil, the current President of India will be completing her tenure by 24 July 2012. You all may be eagerly waiting to see who will be the next President of India? Pranab Mukherjee, a name familiar to almost all people of India is a famous political figure from Bengal in India.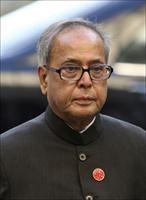 More correctly we can say that Pranab Mukherjee is a congress veteran from West Bengal in India. Mr Mukherjee is the current Finance Minister of India. Read this Pranab Mukherjee wiki biodata to know more about him.


Finance Minister Pranab Mukherjee: Personal information and contact details
Date of birth of Pranab Mukherjee: 11 December 1935
Present age of Pranab Mukherjee: 77
Place of birth of Pranab Mukherjee: Birbhum district, West Bengal state, India
Pranab Mukherjee parents: Late Shri Kamada Kinkar Mukherjee and Late Smt Rajlakshmi Mukherjee
Wife of Pranab Mukherjee: Suvra Mukherjee
Pranab Mukherjee children: 3
Hobbies of Pranab Mukherjee: Reading, Gardening, Listening music
Political party: Indian National Congress
Educational qualifications: M.A(Political Science), M.A(History), LLB, D.Litt


You can contact Pranab Mukherjee in Pranab Mukherjee residential address or Pranab Mukherjee telephone number or Pranab Mukherjee Email ID, mentioned below:
Pranab Mukherjee residential address
Pranab Mukherjee,
13, Talkatora Road,
New Delhi 110001
Tel:(011) 23737623, 23737657 (R), 23092810, 23092510 (O)
Fax.(011) 23737658 (R), 23093289 (O)

Pranab Mukherjee permanent address:
Pranab Mukherjee,
Flat No. 2-A,
First Floor,60/2/7,
Kavi Bharti Sarani, Lake Road,
Kolkata - 700 029, West Bengal
Tel. (033) 24648366
Email ID: [email protected]


Pranab Mukherjee political career

We all are aware of the fact that a person who is nominated for Presidential elections will have a strong political background. Pranab Mukherjee, the present Finance Minister of India is a popular Congress leader from West Bengal. May be he got the inspiration to join politics from his father, who was a member of INC and West Bengal Legislative Council. When considering the political career of Pranab Mukherjee, it's important to note that he had held several positions like Rajya Sabha member(1969, 1975, 1981, 1993, 1999), Lok Sabha member(2004), Rajya Sabha deputy leader(1978-1980), Rajya Sabha leader(1980-1985), cabinet minister of commerce and steel and mines(1980-1982), Minister of Revenue and banking(1975-1977), Minister of state for Finance(1974-1975), shipping and transport deputy minister( January 1974- October 1974), Industrial Development deputy minister(1973 February- 1974 January), Bengal PCC President and many more.

Apart from all this posts, he was the leader of Indian delegation to Colombo Plan Finance Ministers Conference, Commonwealth Finance Ministers Conference, Annual General Meeting of World Bank and IMF, UN General Assembly, 40th Anniversary of Asian Conference etc. He was rated as the world best finance minister in the year 1984 by Euromoney, an international economic magazine. By going through these points, I guess you all understand the fact that Pranab Mukherjee is the suitable candidate for Indian Presidential election 2012.



Image courtesy: winnersdelhinews.com