A heart touching Bengali film - Ashani Sanket (distant thunder)

The film is based on poor condition of villagers in Bengal during World WarII.Brahmin Gangacharan & his wife Ananga lived there.Price of rice was increasing rapidly.The cruel starvation engulfed the village.Hunger forced villagers to beg.Ananga went into forest with Chutki & a woman for food.A man wanted to take Ananga;Chutki killed him.She was forced to go with a bad man for rice.The village became a crematorium.Ananga told her husband about her pregnancy.


Ashani Sanket is a heart touching film directed by the oscar winner SATYAJIT RAY. The story of this film is based on the story ASHANI SANKET written by great author BIBHUTIBHUSAN BANDAPADHAY.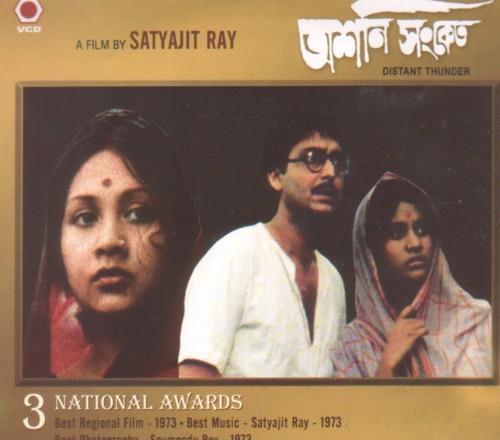 Cast & crew of Bengali movie Ashani Sanket

Director - Satyajit Ray
Producer - Balaka Movies
Editor - Dulal Dutta
Cinematography - Soumendu Roy
Music - Satyajit Ray

STAR CAST
Soumitra Chatterjee as Gangacharan Chakravarty
Bobita as Ananga
Sandha Roy as Chutki
Ramesh Mukherjee as Biswas
Chitra Banerjee as Moti
Govinda Chakravarty as Dinabandhu
Seli Pal as Moksada
Anil Ganguly as Nibaran



Plot & storyline of Bengali movie Ashani Sanket

This film was about the distressed villagers of Bengal during World War II. Here Soumitra Chatterjee played a significant role as Gangacharan Chakravarty,a Brahmin and also a doctor and teacher. Bobita acted as his wife, Ananga. They decided to live on a village. He decided to teach the villagers and wished to get many service instead of that.

The World War II changed the village. Japan captured Singapore. The price of rice was increasing rapidly. The villagers were forced to beg for eating. Even Brahmin's wife Ananga gave her bangles to Gangacharan to sell.

One day when Ananga,Chutki & a village women went into forest searching for village potatoes, a man tried to insult Ananga,Chutki killed him.

A bad man said to Chutki to go with him and he will give her rice. Chutki refused. But after that the cruel hunger forced Chutki to go with him.

A old man came once to Gangacharan's house for rice without paying money. But Gangacharan was not present in the house at that time. The old man had lunch in Gangacharan's house. Ananga gave him her own food. Gangacharan heard that and denied to give rice to him without money. The old man went back without rice.

A poor village woman died for this horrible starvation. The starvation covered the village in epidemic form. Again that old man came with his family to Brahmin's house for rice. Then many people came there for food. At the end Ananga said her husband about her pregnancy. The whole villagers came there for food. We saw that how the cruel starvation engulfed the village. It is also pottrayed that how women tolerate insult for hunger.


Review of Bengali movie Ashani Sanket

The film is really heat touching.we can clearly know the distressed condition of the villagers.Director pottrayed the typical village women's character by Ananga.We also saw how a cruel man takes opportunity to insult the sufferers.The director explained the poor condition of the villagers during starvation.