Easy Indian Chicken Curry Recipe

If you enjoys eating Chicken curry then here is a quick and easy Chicken curry Recipe in Indian style of cooking. The step by step guidance will let you cook it without any fuss and would taste better than a restaurant curry.


Introduction

Chicken is one of the most favorite non-veg dishes through out the world. With every state and city, the flavor of chicken curry changes slightly. In north India, spicy chicken tikka masala, butter chicken, chicken tadka masala, tandori chicken and many more types of chicken recipes are hot favourite where as in south, the addition of coconut milk and curry leaves changes the taste drastically. Traditional formula of cooking is infused with new experimentation to give rise to a new variation to chicken recipes. In spite of hundreds of new variations and changes, the simplicity of cooking still remains in the heart of every dish. In most of the homes, chicken curry is still cooked with simplest of ingredients and spices. Do you remember how a simple dish made by your mother always tastes much better than a restaurant dish?
Here is a basic and very simple recipe for chicken curry that is as tasty to eat as it is easy to make.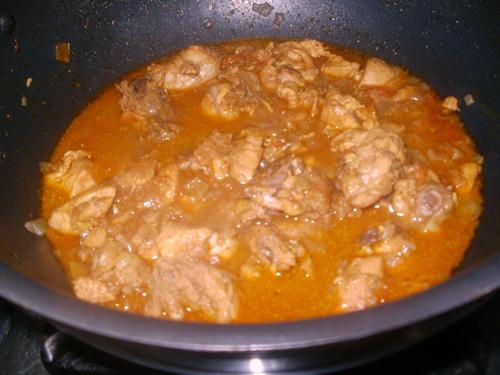 Ingredients for the chicken curry recipe:
Chicken (skinned and cut into pieces): 1 kg.


Onions (chopped) : 4 medium size.


Tomatoes : 4 in nos.


Ginger garlic paste : 2 tbsp.


Red Chili powder : 1 tbsp (according to taste).


Green chili finely chopped : 2 in nos.


yogurt : 1 cup.


Cooking Oil or fresh Butter : 2 tbsp.


Salt to taste.


Fresh Coriander leaves finely chopped for garnishing.
Dry spices:
Cinnamon : half stick.


Black peppercorns : 10-15.


Bay leaves : 2 in nos.


Cumin seeds : 1/2 tbsp.


Coriander seeds/powder : 2 tbsp.


Black cardamon : 3 in nos.
Method

For Marination of chicken:

to marinate the chicken pieces, add salt, ginger-garlic paste, chili powder, turmeric powder and chicken garam masala to yogurt. Now add chicken pieces thoroughly skinned, washed and cut into small pieces. Cover the bowl containing marinated chicken and keep it away for half an hour.

After half an hour follow the below mentioned steps:

Dry roast all the dry spices (coriander seeds, Bay leaves, black cardamon, cinnamon stick and black peppercorns. Now grind them all together in a blender.


Heat the oil in a pan/kadhai. Add onions to it when it is hot enough. Cook till onions turn translucent.


Now add ginger garlic paste to it and cook for another 2 minutes.


Add tomatoes to the pan and cover it. Wait till tomatoes are mushy and soft. This will take around 4 to 5 minutes.


Now add turmeric powder, chili powder and chopped green chilies to the pan and cook till oil starts leaving the mixture.


Add the marinated chicken to the pan. Add 1 cup water, cover and cook it for 15-20 minutes.


Now add the grounded spices to the chicken and cook it for another 5 minutes with the lid on. So that spice flavors gets fully blended.


Add 2 cups of water and bring it to boil on high flame. Now let it cook for 10-20 minutes uncovered on medium flame.


Cook till done and finally serve it after garnishing it with coriander leaves.

Serve this delicious chicken curry with rice or naan or tandori roti.