A recipe with drumstick leaves

This a very good recipe for the people who are suffering from cardiac problems, rheumatism, anemia etc. This recipe will be the correct solution to those people. This is a seasonal recipe as drumstick leaves are not available clean and fresh all the time. They will be available to cook in only the starting days of monsoon.


A recipe with drum stick leaves
Munagaaku kura (Telugu)
This is the most popular recipe in Andhra Pradesh, especially in Godavari regions. The leaves of drumstick have many more medicinal values and are available fresh in the starting of rainy season for only 20 days. After that the tree will be resided by caterpillars and small creatures. This is one of the good diet for the woman after delivery.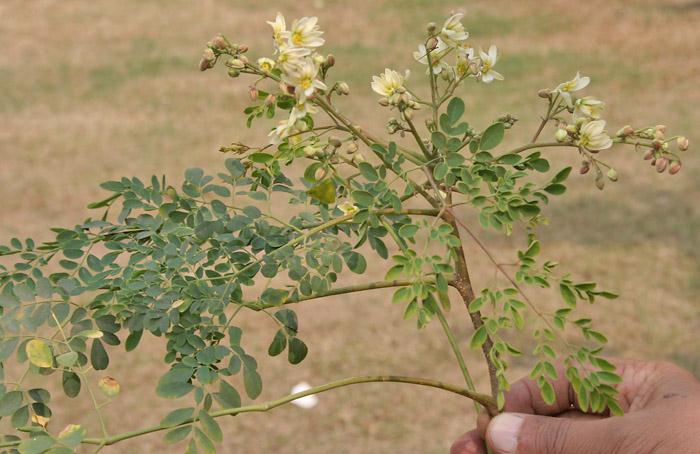 Medicinal values:

1) Cardiac and circulatory stimulant.
2) Treatment of rheumatism.
3) Reducing glandular swellings.
4) Applied to painful bones in syphilis.
5) Applied buboes also.


Ingredients:

Bengal gram pulse – 1 cup

Leaves of drumstick – 2 cups

Shredded coconut – 1 cup

Cumin seeds – 1 table spoon

Mustard seeds – 1 table spoon

Bengal gram pulse – 2 table spoons

Black gram pulse – 2 table spoons

Red chilies – 10 no's

Curry leaf – 2 springs

Oil – 4 table spoons

Salt – to taste

Turmeric powder – ½ tsp


Method of preparation:

Step 1: Clean and boil drumstick leaves.

Step 2: Clean and boil Bengal gram pulse.

Step 3: Drain water from both boiled drumstick leaves and Bengal gram pulse.

Step 4: Heat pan and pour oil.

Step 5: Add cumin seeds, mustard seeds, Bengal gram pulse, black gram pulse, red chilies and curry leaf one by one.

Step 6: Add shredded coconut and turmeric powder.

Step 7: Make it fry till it leaves raw smelling.

Step 8: Add boiled, drained drumstick leaves and Bengal gram pulse.

Step 9: Add salt to taste.

Step 10: Cook it for 5 minutes with lid and mix it periodically for minute to minute.

Step 11: Switch off the stove and dish out it.


Garnishing:

Garnish this recipe with
1) Curry leaves
2) Coconut
3) Cashew nuts (Raw or Roasted)


Carving:

Make any Carving with Coconut and leaves of drumstick or curry leaves.
Otherwise you can make carving as a flower with tomato or carrot. It will be colorful as the recipe colors in green, white and yellow where as carving in red or orange.


Serving tip:

You can serve this recipe with rice. If the sesamum oil is served along this it will give great taste. If sesamum oil is not available you can serve it with ghee also(not for the woman after delivery). Ghee should be avoided by the woman, only after delivery and using Sesamum oil gives strength to body.