Biscuit Custard Pudding recipe

You must have had fruit salad with custard, plain custard pudding, and caramelized custard so many times. Now try this Biscuit Custard Pudding recipe which is so easy to prepare, light on the tummy and the pocket too.


I prepared fruit salad with custard so many times with Brown & Polson custard powder, then I tried my hands at preparing caramelized custard from the scratch a couple of times - at times with the caramel a little more runny than it was supposed to be at other times a little more bitter than it should be. But overall it turned out to be nicely flavored and tasty. Now with time constraint I cannot experiment much but this time I decided to prepare biscuit pudding using readymade custard powder which is far less time and energy consuming. The ingredients for this dessert are easily available in the general store or supermarket near you.


Ingredients for the Biscuit Custard Chocolate Pudding
Custard Powder – 4.5 - 5 tbsp (I used Brown & Polson)
Milk – 1 Litre ( I used cow milk, you can use full cream milk)
Sugar – 10 tbsp + 1 tsp
Marie Biscuit – 250 gms (you may use any other biscuit as per your choice)
Chocolate Shavings (nothing but grated chocolate) – approximately 3 - 4 cup ( These are easily available in the stores but I guess they are costly, I used Morde Dark Compund, easily available and easy on the pocket too
Coffee powder – 1 tsp
Water – 1 cup
Method
Take a cup of milk from the 1 litre milk and add the Custard Powder, stir and keep aside for later use.

In a heavy bottom vessel heat the remaining milk, add 10 tbsp sugar and bring it to boil.

Once the milk boils remove from heat and add the custard paste kept aside and mix well.

Keep it back on the fire and heat it for 2 -3 minutes stirring continuously.




In a vessel heat the water with the remaining 1 tsp sugar and bring it to a boil, remove from heat and add the coffee powder and mix well and let it cool a little before use.

Now take a vessel that you want to set you pudding in. Alternatively you can use individual dessert bowls or ice-cream bowls to set the pudding which can be ready to serve.

Dip the biscuit in the coffee and layer in the pudding vessel till the bottom is covered with the biscuit.




Sprinkle chocolate shavings such that you cover the biscuit layer.




Now pour over the custard into the vessel.

Now again place the biscuits and repeat the biscuit and chocolate and custard layers till you finish the custard.

Sprinkle chocolate shavings generously on the top.

Place the pudding in the refrigerator to set. Custard will be set in 5 – 6 hours.


Your custard will look like a piece of cake when you cut and serve. You may dust a little icing sugar to see a snow peaked mountain if you desire!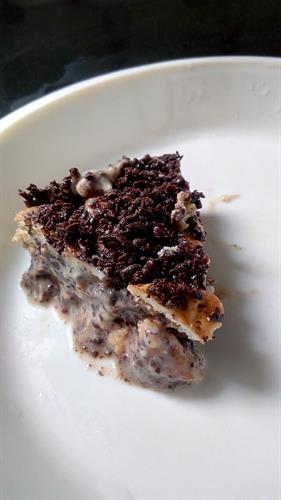 No more waiting, just cut and have a mouthful of this sweetness… Though not required, but if you are a chocolate maniac, you can drizzle some chocolate syrup over it while eating.