Sharabati Biryani Prize Winning Recipe

Everyone likes to participate in contest and win the prize. There are many opportunities comes in our way. However, few of us can achieve success in it. Similar kind of incident was happened with me. It was the cookery contest, where my team and I participated in Organization level competition and got the first prize in it. In this article I have mentioned my experience in the cookery contest.


Preparations for cookery contest:

It was 8th March 2012, Thursday. It is a special day not for all women of the world but also for my friends and me too. Piyush Balas, Anoop Thomas, Ebin Varghese and Sini Paul and I, we five friends participated in the Cookery Contest held in our company. The four male participants and one female mentor were required for this competition.
In the last week of February 2012, I received an email about the Cookery contest from organization. Without informing my friend, I filled spread sheet with my friend details and sent to contest organizer. However, no one was expert in cooking. Of course, Sini can cook but she was only mentor in the competition, so she was not allowed to cook.


Rules for cookery contest:

On that special day, 8th March, the contest was held between 3.00 pm to 5.00 pm on terrace of our company's office building. Apart from 4 Male Contestants + 1 Female Mentor rule there was one more rule and it was dish preparation time was 90 minute. The microwave and food ingredients were provided by organizing team. The remaining items such as Non-motorized hand mixer/ blender, Cutting board, Knives, Vegetable peeler, Mixing bowls, Mixing spoons, Basket/ container for collecting ingredients, Hand towels, Service cutlery - forks, spoons, knives, plates etc. was arranged by ourselves. Out of this, nice serving plates, Non-motorized hand mixer and Cutting board were arranged by Piyush, other material an attractive mixing glass bowl and precious spoons was arranged by Ebin. The remaining material such knives, hand towels forks and container by arranged by Sini, Anoop and me. So we were ready for contest.
We reached on terrace sharp 3.00 pm. The competition was about to start. We got table number 8. Now after some time the contest was started. Initially, three minutes were given to go other section of contest where food ingredients were kept and note down whatever possible. From our team, I took the initiative and went there, I noted so many food ingredients such as Corn, Carrot, Bit, Onion, tomato, Lemon, Coriander leaves, fruits like Banana, Orange, Papaya, Apple, Grapes, Mango, Strawberry, Anardana, Potato, Semi cooked Rise, Milk, Oil, Bread, curd, Ground nuts, Salt, Termeric powder, Biryani powder, Chat powder, Coriander powder, Chilli powder and Green Chillies etc. I showed this list to my team member and after Piyush, Anoop, Sini and Ebin's suggestion we short listed the item to cook Pulav item.


Ingredients for Sharabati Biryani recipe:

Out of given ingredients, we choose the below ingredients for our recipe. Out these ingredients, Basmati Rice was semi cooked, other items were not processed.
1. Basmati Rice = 2 cups
2. Tomato (chopped) = 1/2 cup
3. Onion (chopped) = 1/2 cup
4. Potatoes (chopped) = 1/2 cup
5. Green Chillies (chopped) = 2 no.
6. Oil (for frying)
7. Salt = 1 tsp
8. Chili powder = 1 tsp
9. Coriander powder = 1tsp (It is also used for garnishing)
10. Coriander leaves = 2 tsp
11. Chat powder = 1 tsp.
12. Biryani powder = 2 tsp
13. Ginger and Garlic paste = 1 tsp
14. Anardana = 1 no.(for garnishing)
15. Strawberry = 1 no. (for garnishing)
16. Teramric Powder = 1 tsp

After that, we were given 5 minutes to collect as many items as possible. Once we left the place where these food ingredients were kept, we were not allowed to revisit it again. So after deciding food item and short listing item, I went to place where I had to collect the ingredients. I collected all the required items quickly and came to our table. After reaching to table, I come to know that I forgot to collect salt. However, the expert guy from our team, Ebin somehow managed to collect salt from neighboring team (By exchanging some amount of red chilli).


Making of Sharabati Biryani recipe:

Anoop and I were busy in making Pulav. As Sini was mentor she was trying to guide us (As do not have any other option). Anoop helped in cutting Coriander leaves, Potato, Green Chilli, Onion and Tomato. Meanwhile I took the orange coloured oil in a plastic container and kept in microwave to make hot for some time. I came back with hot container with Orange oil. I immediately took onion Coriander leaves, Green Chilli and Onion, and tried to fry in the plastic container. However, I did not get success in it, as Orange oil was not that much hot to fry the items. After that I mixed all the items with some proportion except rise and kept in microwave for five minute.


Making of Raita:

While Anoop and I were busy for preparation of Sharabati Biryani, at the same time Piyush and Ebin were engaged in making Raita. The Onion cut by Anoop was further chopped by Piyush for Raita. Ebin was looking after taking out seeds from Anardana. Piyush mixed sugar in curd and trying to mix it with hand mixer. After thoroughly mixing, he used some chopped tomato, Coriander leaves and along with some amount of chat masala in the Raita. The while – greenish coloured Raita really looking fantastic. Finally, Piyush mixed the seeds of Anardana into Raita. The strawberry put for garnishing was looking awesome!

Anoop was busy in cleaning the table. Meanwhile, I took out the container with all mix and reached to our table. Then I mixed semi cooked Rise in that mix and again go for cooking the final mix. The entire microwaves were used by someone. So did wait for 5 more minutes to finish someone's food item. Finally I got one, but we did not have sufficient time, so kept it to cook for 5 min. Finally, we are ready with our main course item and specially prepared Raita.
Raita was looking awesome it was garnished with seeds of Anardana and Red beautiful Strawberry. The yellow coloured Pulav was filled in the glass bowl and kept inverted in the serving plate by Piyush. Pulav was garnished with Coriander powder and seeds of Anardana.


Evaluation of Name Sharabati Biryani:

We were confused about what would be the name of such an item. Somehow we decided the name could be "Hindustani Pulav". Now examiner was ready to examine our item, we for guys are not allowed to face examination of food item, it was Sini who was mentor from our group were going to face. After making such efforts we except Sini left the table and visited the place where food ingredients were kept. I was little hungry as I did not had food since morning. Piyush and Anoop were looking for some delicious food ingredients.
Meanwhile I noticed, Anoop was mixing Milk with Orange Oil and started drinking. I interrupted him and told him that why he was taking oil with Milk. After listening this, Piyush and Anoop started laughing very loudly. I was confused, in such situation I tried to ask about it. Piyush told me that it's not oil, it is Mapro Orange Juice. I told, that I thought it was oil and used in cooking the Pulav. Everyone was stunned by this statement. Piyush called Sini, told the new name of our item and it was "Sharabati Biryani". Why Biryani? Because we mixed all the garam Masala and red chilli with little more quantity hence it was taste like Biryani.


Award for Sharabati Biryani recipe:

We know that, our item was not presented very well also what mystery happened with it was only known to us. So there was hardly any change to get prize in the competition. In such situation examiner came to our table, Sini was explaining the procedure of how we did cook the "Sharabati Biryani". Examiner tasting our spicy Biryani again and again and also tasted delicious Raita and nodded head in positive manner. We saw this from one of the corner. Now we have some hopes, at least we would get runner up prize.

Finally, result was declared - "We got first Prize in Cooker Contest". How? Even our presentation of food item was not that much attractive, but out Biryani had cooked well and it was delicious. Hence we won the first prize with 84 point out of 100.We never know that we can win the contest. But its team's efforts, it was made one of the best memorable events in our life. We got Crossword coupon of 500.00 Rs each as gift prize. What a wonderful experience!

Note: If you want to see detailed recipe for the Sharabati Biryani, you can click here, Sharabati Biryani


Photo of Sharabati Biryani Contest :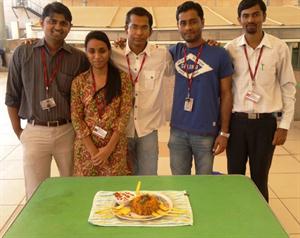 From Left Piyush, Sini, Ebin, Anoop and I in Sharabati Biryani Contest