Rain Forest Chennai Multi Cusine Restaurent

Chennai's one of the best theme restaurent famous for their service and affordable rates. You can enjoy with your family and loved ones in this forest like experience your weekends. Lovely ambience and good food.


Rain Forest Hotel Chennai

Rain Forest Hotel in Adyar, Chennai is one of the best theme restaurant situated in Chennai best for its affordable rates and wonderful service inside the restaurant. The rates are also very normal. And best time to spend with your family this weekends.


Ambiance Of Rain Forest Hotel in Chennai: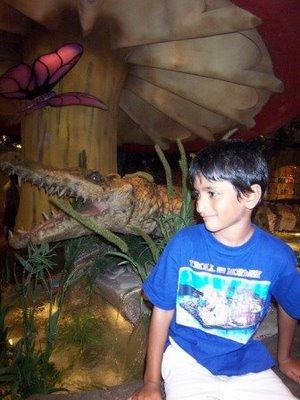 In Chennai all kinds of people's likes to go to restaurants to have a different taste of food with their family and enjoy the weekends from their daily burdens. But this restaurant provides a very different taste and experience for you. As soon as you enter the restaurant you'll forget about Chennai and you are entering into a rain forest a forest like setup where birds and monkeys and animals all around sounding and chirping. You are going to sit and enjoy your food inside a forest not an ordinary forest its a rain forest. Definitely you will experience a journey through forest. And a very famous one among nama Chennai makkal.


Services in Rain Forest Hotel Chennai

The hotel provides all kinds of food's like
Chinese Restaurants, Continental Restaurants, Multicusine Restaurants, North Indian Restaurants, Maharashtrian Restaurants, South Indian Restaurants.

Its a Non-veg AC restaurant , no coupons will be accepted, home delivery will be provided only within 2kms. Their specialty cuisines are Briyani, Tandoori, Indian Grill.

Booking before itself is required to have your table reserved as they run always in full capacity all the days mostly weekends and holidays. You will be having you meal in a cave like location inside a forest atmosphere. There are not many theme based restaurants in Chennai as this place still liked by many new comers and people who visit frequently. The food also will be awesome and mark its success up to to today. Also there are some drawbacks for the restaurant it seems the hotel is little bit noisy as to set up an atmosphere like rain forest which was not liked by some people. There is no proper rest rooms in the hotel which is a trouble for kids especially. During weekends you need to wait in a queue for getting a table. These are some drawbacks in the restaurant but then also many people love the ambiance and service provided by the restaurant and they are providing a complimentary cakes for birthday's if you book before. The chef's preparation of mouth watering dishes is also a great success for the restaurant.

You have to book a day or week before to get a proper table with your family to enjoy the rain forest experience as the hotel is very famous among people's of Chennai. So make a call and book a seat to enjoy a fabulous meal.


Popularity and Fame of Rain Forest Hotel Chennai

The hotel is famous for couples and lovers for having entangled time together in the lovely atmosphere. It is also famous for kids and children as the surrounding is made full of animals, birds and their sounds turn their attention towards them and make them have food enjoyable. This place is sure a best place and a heart good experience to have a different dining experience. The rates are little bit high when compared with other restaurants but its worth for its ambiance.


Business Hours of Rain Forest Hotel Chennai

You have to make a booking earlier or else you need to wait outside in a queue. So to have a better experience please book earlier as it is always full for its famous.

Monday – Sunday

3PM- 7PM – Lunch.
12PM- 11PM- Full Timings.


Location of Rain Forest Hotel Chennai

It is situated near Parry ware showroom Adyar, however the exact address is provided below,

No.41 & 42
1st Main Road,
Gandhi Nagar,
Adyar,
Chennai- 600020

Nearest Landmark of Rain Forest Hotel Chennai
Near Parry ware Showroom.

Phone No:
044-42187222
044-42187777

Mobile No:
9840999555