Yo Potato Food Delivery Charges

This article provides cost details of Yo Potato on food deliveries. Recently they have introduced cost for their deliveries.


Yo Potato Cost details or food delivery Charges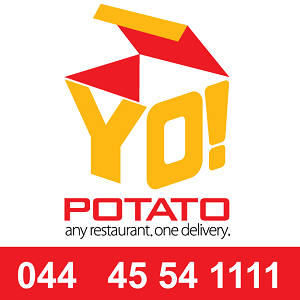 Yo Potato is now popular all over the Chennai city and is very popular for their free food delivery. Now they are not free anymore. They cost for the delivery that they make. The cost details of their delivery are explained in this article. Yo Potato is very famous for their quality service. They have also got many personal appreciation from various customers. Apart from that they are also very customer friendly. Read more to know more about Yo Potato.


Yo Potato is not free anymore

Yo Potato is a wonderful food delivery agent in Nungambakkam area near Chennai. Most of the corporate people in and around Nungambakkam make use of Yo Potato to order foods from various restaurants of their choice. As this was a convenient option for them to get foods from any place, Yo Potato became more attractive and popular in and around Nungambakkam area. Even though they were offering free delivery service, they had done a very good job in order to make sure that the food is delivered at the right time. Apart from that they also made sure that they get the food delivered in the right time they promised. These are some of the most interesting points about Yo Potato service in Chennai for food delivery. It was apparently amazing to know that this service was offered by them for free of cost. They don't even collect tips for the orders that they deliver. No one actually knows that was their source of income on this.

I thought I should definitely mention about this. Once when we placed order from our company during a rainy day. We had to make a bulk order for our company treat. I called up Yo Potato to place orders. The following was the exact words that I received from them during the call.

"Sir it is raining heavily. Well we will take your orders but there will be some delay in delivery. Is that ok with you?"

I answered "Yes, that's ok. Can you please tell me an estimate time so that I can discuss with my colleagues and decide?"

"I'm sorry sir. We are not having rain coats for delivery boys. I have borrowed some money to buy raincoats. We will be getting the rain coats in another fifteen mins probably. We will make it as soon as possible once we get our rain coats. But I really want to take your orders."

These words from them actually kindled my emotions as this showed their dedication towards the work that they have taken. As they promised we got the orders delivered at right time. They actually told me one hour delay but they managed to deliver the orders in half hour. This completely shows their perfection and dedication towards their work.

Also I'm happy that they have introduced some fee for their deliveries recently which is good news as it helps them to cope up with their expenses.


Cost details of Yo Potato Food delivery in Chennai

Below are the cost details of Yo Potato. They have monthly subscription plans based on the orders that we make. Apart from that for the convenience of the people who order once, they charge Rs 120 as pay as you go charge. They have also introduced trial schemes. Please find more details below. For more details contact Yo Potato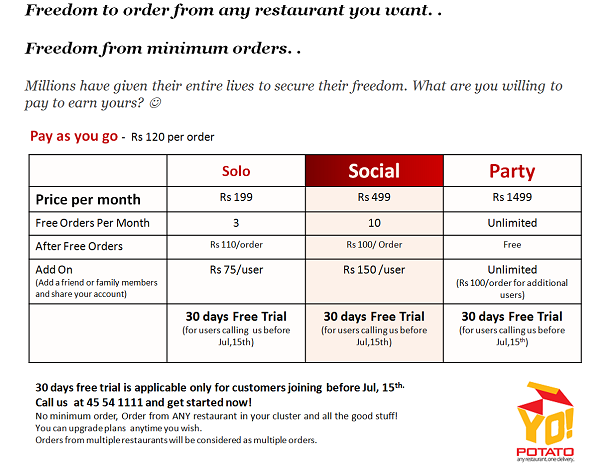 Click on the Image below to get an enlarged view of the above image.