Top 5 Solar Water Heater Dealers in Tamil Nadu

If you are looking for the solar water heater dealers in Tamilnadu, then here is what you are looking for. We detailed the popular dealers in the solar water heater, Certainly, this will help you to choose a better brand.


Solar water heaters also known as solar water heating systems are one of the most cost-effective ways to produce hot water for residential and commercial purposes using the power of solar energy. A solar water heater not only enables sustainable energy savings but also reduces the emission of CO2. Since solar water heaters are quite affordable, it is popular these days and more people started using this water heating system for their domestic and industrial needs. Nowadays, you can purchase solar water heaters directly contacting a supplier or an agent or through e-commerce platforms. If you are planning to buy a solar water heater in Tamil Nadu, this post will definitely help you as we have compiled a list of the top solar water heater dealers in Tamil Nadu.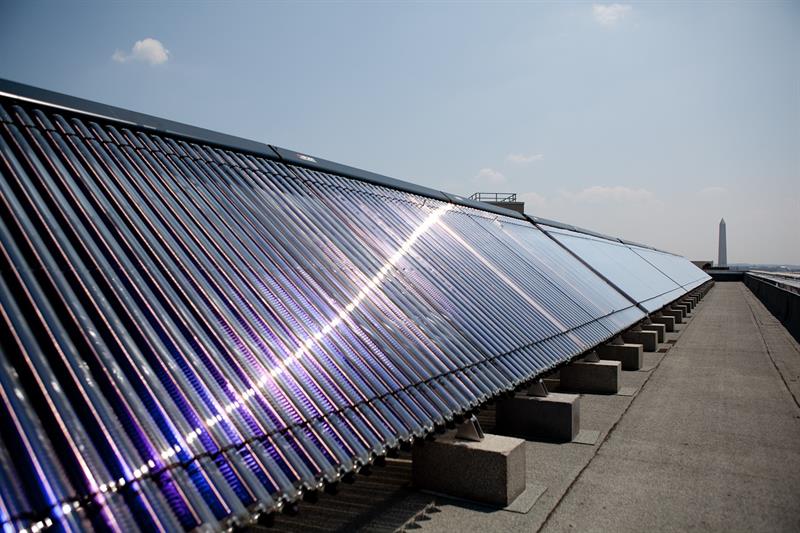 Solar Water Heater Dealers in Tamil Nadu

Solar water heaters have numerous benefits over the traditional geysers that work on electricity. Due to the several advantages of solar water heating systems, adding a unit to your residence or office will also increase the value. However, if you are choosing an agent to buy a solar water heater for your needs, then you should be more vigilant as there are a lot of fraudsters now tricks common man looting out their money in the name of solar products. Here we have listed the top five solar water heater dealers in Tamil Nadu for those who are planning to buy solar products, especially water heating solutions.

Hykon India

Hykon India is one of the top solar water heater dealers in Tamil Nadu, which provides high-quality, and energy-efficient water heating solutions all around the country. To name a few, the distinctive features of Hykon Solar Water Heaters include its anti-corrosive construction, sturdy stainless steel material, temperature resistant Galvalume outer tank, and more. This technologically advanced durable water heating solution is ideal for Indian customers who required hot as well as purified water, saving a huge amount on the electricity bill.



Solar Point

Established in the year 2003, Solar Point located in Ramanathapuram, Coimbatore is one of the top players in the category solar water heater dealers in Tamil Nadu. Apart from solar water heating systems, the team provides a wide range of solar products to meet the varied needs of the customers.



Genpower Equipments

Genpower Equipments is a single proprietorship based dealer headquartered at Coimbatore, Tamil Nadu, which suppliers solar products in and around Tamil Nadu. Since its establishment in 1998, Genpower Equipments is ardently engaged in the trading of Solar Water Heater, Solar Panel, Solar Inverter, Solar Light and many more on a wholesale and retail basis. Apart from providing solar devices, the team also offers repairing services for solar water heaters and solar panels.


Salice Exim

Salice Exim is a dealer of Venus Solar water heaters in Chennai. Offering professional sales procedures, exceptional technical solution support, and the most reliable products, Salice Exim is popular as one of the leading solar water heater dealers in Tamil Nadu. Besides, solar water heaters, the team sells water level controllers, inverters, solar light, etc for the clients across the state.


Smartk Solutions

Smartk Solutions founded in 2012 offers a wide range of solar water heaters for domestic and commercial customers. Smartk team is highly professional in their dealings and the team makes sure that their trades high-performance solar water heater to customers while guaranteeing trouble-free maintenance with maximum savings of money. Quality supply, on-time installation, and dedicated after-sales support services to customers are the features of Smartk Solutions. Apart from solar water heaters, they are one of the leading dealers of piping products.


Tips to Consider while Buying Solar Water Heater
Determine the exact site. Know whether your rooftop receive direct sunlight during 10 am -4 pm year-round.
Decide what type of solar watering system meets your requirements.
Choose a reliable solar water heater contractor to determine the type and size system that best suits your needs.
Search for discounts and utilize tax credits so that you may be able to get your solar water heater installation on reduced costs or by taking advantage of tax credits. Better review the eligibility rules before you make your purchase.
After installing a solar system, it is essential to do regular maintenance to ensure effective performance.