Top reasons why we eat unhealthy foods

This article explains the reasons why we consume unhealthy foods. An unhealthy lifestyle, easy availability, stress and low cost are some of the reasons. Also, unhealthy food looks and tastes healthy which makes it appealing to eyes and taste buds.


Introduction
There was an era when no one could imagine eating outside. Roadside stalls or restaurants never really existed. Travelling from one place to another would take days and people would carry their food along with them. Wherever possible they would burn some firewood and cook their food. Eating self-made food was considered to be healthy. However, today we all enjoy eating outside. We don't miss out on any chance of dining outside. Even if we are eating within our home, we are ordering food from outside. What we are ordering is mainly unhealthy. It does nothing good to our bodies and our health. The more such amount of food we consume, the more we are shifting from health towards sickness. It is not true that we are living in an unaware mode. We are aware of the consequences of our actions but still, we are prone to eating more and more unhealthy foods. This article explains why we are so inclined to opt for unhealthy foods and drinks.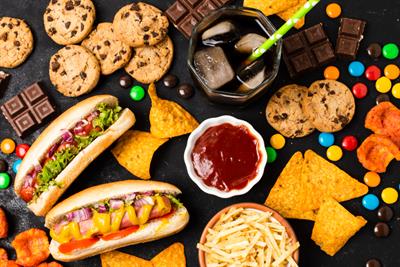 Top reasons for eating unhealthy foods
Everyone around us is eating unhealthy

Today the majority of us are living a fast-paced life. We do not have enough time to sit and relax. We do not have time to eat freshly prepared meals in our homes. All we do is opt for something unhealthy while we are going from one place to another. When we catch a quick break in our office, we see our colleagues indulging themselves in some quick fixes available at eateries. When we go out to a party, we see our friends ordering unhealthy deep-fried foods. Our kids only want to eat what is brought from outside. Eating outside food has become some sort of trend now a day. Since everyone around us is eating unhealthily, we do the same. We follow in their footsteps as we do not want to miss out on trends. We do not want to be left alone and feel like an odd man out. We want to be part of the group and therefore we order what others order.



---

Check out Forum for new posts

---




Easy availability

Streetside vendors and eating outlets only sell the foods that are high in demand. Since most of us want to eat fried, extra spicy foods, they are more than happy to cater to our needs. Chips, biscuits, chocolates, and cold drinks are easily available at almost every other shop. We will hardly see vendors selling a bowl of freshly prepared soup or a plate of salad. Unhealthy foods will have a high amount of oil and refined flour in them. Moreover, these are not prepared in the best healthy environment. We like what we see. When around us all we see is the foods that water our mouths and tempt us in every possible way, we give up on our urges and go for foods that are easily available.



Unhealthy food is tasty

No doubt home-cooked nutritious food can be made tasty and appealing to taste buds but it requires time and effort. On the other hand, readily available unhealthy food seems a convenient choice when one does not want to put in a little bit of time and effort. Too much sugar and salt added to it tempts the taste buds. Frying it in deep oil may increase the cholesterol content but it looks and tastes delicious. Different types of sauces added in the preparation along with extra spices may make the food unhealthy but can make it extra tangy, extra spicy and extra juicy. Home-cooked food when compared to that available in restaurants may look plain and dull. When it comes to taste, food from outside always ranks high. When we have tasted as our priority and not health, we are tempted to eat unhealthy foods.




Unhealthy food looks attractive

Lots of colours are added to processed foods to make them look attractive and appealing so that large amounts of customers purchase them. Roadside vendors and chefs in the restaurant try to present the food in such a manner that makes it tempting to the eyes. It is said that first we eat it with our eyes and smell it with our noses. When these senses get stimulated, we indulge our taste buds the next. We all have experienced that when we are outside shopping or carrying out some work, we end up eating a plate or two of some unhealthy food sold outside even if we're not hungry. When we look at such foods that visually appeal to us due to the saturated colours added to them, we have no option but to indulge in them.



It is cheap

Nutritious food is a little expensive when compared to unhealthy food. Grab a plate of snacks from the street-side vendor. It hardly costs anything. Grab a plate of mixed fruits or vegetables. It will cost almost double the fried snack sold on the same street. Drink a glass of soda, it will cost way less than coconut water. Fast foods, processed foods and unhealthy foods sold on the roadside or in restaurants cost very little when compared to nutritious meals. 1 plate of nutritious meals can buy 2-3 plates of unhealthy meals. This is the reason everyone wants to eat unhealthy because it cut down the costs to more than half.




---

Check out Help 101 for to easily understand Social Village website




---



Stress makes us eat unhealthily

When we are in a pleasant mood, we make the right choices. When we are stressed out, all we want to do is satisfy our hunger. We do not think straight and end up grabbing anything that looks appealing to the eyes. Consequently, we will end up eating unhealthily. Today stress is an integral part of our lifestyle. We are stressed out about one or the other thing in our daily lives and thus, we regularly make these unhealthy choices daily. When we are stressed out, our body produces cortisol. This hormone increases hunger. It increases the blood sugar content. This is the reason we crave foods that are high in sugar, carbohydrates and fat content. After a stressful day all we can think of is how to reward ourselves in the form of everything that our taste buds crave. The irony is when we are stressed out, we eat unhealthily. When we come out of stress by tackling the situation with hard work, we reward ourselves with unhealthy food.



It has become a part of an unhealthy lifestyle

Unhealthy eating has come very naturally to us in these changing times because we are living a very unhealthy lifestyle. We are living a sedentary lifestyle where we are not exercising our bodies. We are not sleeping for adequate hours. We are creating too much stress. We are addicted to one or other things which can be in the form of substance abuse or addiction to technology and gadgets. Since we are living an unhealthy lifestyle, we don't find unhealthy eating troublesome. It fits the puzzle perfectly. On the other hand, those who are living a healthy lifestyle cannot eat unhealthy as it will disturb their entire routine. Missing out on breakfast which is considered to be the most important meal of the day and then in the middle of the day craving heavily for something that is extra fatty mess up our entire day. Yet, we are happy doing that.