Live Thiruvannamalai Maha Karthigai Deepam 2013 at TV channels, Karthigai Deepam Online Streaming

This article "Live online streaming of Thiruvannamalai Maha Karthigai Deepam 2012" gives you the details about the Karthigai Deepam Festival, the date of the deepam festival, the Thiruvannamalai Maha Deepam festival schedule, the timings and the TV channels telecasting the Maha Deepam Online. Read the article and get the blessings of Lord Arunachaleeshwarar.


Live online streaming of Thiruvannamalai Maha Karthigai Deepam 2013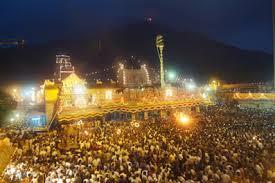 Karthigai Deepam is one of the most awaited festivals of the people in Tamilnadu, which is celebrated on November 17, 2013. The Thiruvannamalai Maha Deepam will be lighted on top of 2668 ft holy mountain on this special day.


Thiruvannamalai Maha Deepam 2013

Devotees can view the Tiruvannamalai Maha deepam at around 6.00 pm and this is lit using 3500 kgs of Ghee and one can view this in a radius of 35 km. Lakhs and lakhs of devotees all around the world will throng here to get the blessings of Sri Arthanareeshwara. The Thiruvannamalai mountain is considered as Shiva Linga and they perform a 16 km long Girivalam on this day so that their wishes will come true.

Timings of Bharani Deepam: lit at early morning in the Temple
Timings of Kiruthikai Natchathiram: 12.10 pm (Nov 17th afternoon) to to 1.30 pm (Nov 18th afternoon)


Other Temples celebrating Karthigai Deepam Festival 2013

1. Thiruparangundram Deepam Festival 2013: Lord Muruga Pattabhishekam will be held in In Thiruparangundram, Swamimalai.

2. Special Abhishekams, flower decorations, Chandana Kappu, Alankarams, Deeparadhanai will be done in all the Lord Muruga temples. Important temples are as follows:
-Vadapalani Murugan Temple
-Kanda Kottam in Sowcarpet
-Kabaleeshwarar Koil

3. Chokapaanai will be lit in the evening in almost all the temples in Tamilnadu.

4. One can see the Traditional lamp decorations and Kolams in almost all houses. Kolams made with lamps can also be seen. Deepams will be lighted in all the Temples, Houses, shops, ponds, mountains, etc., in Tamilnadu.


Thiruvannamalai 10 Day Festival Schedule 2013

8 November 2013 - Friday
- Kodiyetram
- Morning - Panchamurthigal Velli (Silver) Vimanam
- Evening - Velli Adhikara Nandi, Velli Hamsa Vahanam

9 Nov 2013 - Saturday
- Morning - Sri Chandrasekarar in Suriya Prabha Vahanam (Sun)
- Evening - Velli Indira Vimanam

10 November, 2013 - Sunday
- Morning - Sri Chandrsekarar Bootha Vahanam - 1008 Sangabhishekam
- Evening - Simha Vahanam, Velli Anna Vahanam


11 Nov 2013 - Monday
- Morning - Sri Chandrsekarar in Naga Vahanam
- Evening - Velli Karpaga Vruksham, Velli Kamadhenu Vaganam

12 November, 2013 - Tuesday
- Morning - Sri Chandrasekarar in Kannadi (Glass) Rishaba Vahanam
- Velli Rishaba Vahanam (Eve)

13 November 2013 - Wednesday
- Morning - 63 Nayanmargal Vimanangal, Chandrasekarar Velli Yaanai Vahanam
- Evening - Velli Ratham

14 Nov 2013 - Thursday
- Maha Ratham Therottam (Morning)


15-11-2013 - Friday
- Morning - Sri Chandrasekarar Velli Vimanam
- 4 pm - Thanga Meruvil Pichandavar Urchavam;
- Panchamurthigal in Guthirai (Horse) Vahanam

16-11-2013 - Saturday
- Morning - Sri Chandrasekarar in Kannadi (Glass) Vimanam
- Evening - Kailasa Vahanam, Kamadhenu Vaaganam

17 November 2013 - Sunday -
- Morning - 4 am - Bharani Deepam
- Afternoon - Theerthavari in Brahma Theertham
- Evening - 6 pm - Maha Deepam; Panchamurthigal in Golden Vimanam


Ghee Offering for the Maha Deepam Festival

Devotees can offer Ghee to lit the Maha Deepam for which 3500kg ghee is used. Last year the devotees were charged Rs. 200 (for 1 kg Ghee), Rs. 100 (for 1/2 kg Ghee), Rs. 50 (for 1/4 kg Ghee).

To get more details about Ghee Offering and Prasadam the contact the Thiruvannamalai temple official Phone number: 04175-252438

Check the below link to watch Thiruvannamalai Deepam Online:
Live-Thiruvannamalai-Maha-Karthigai-Deepam-at-Tv-Channels